This site describes my many varied interests. I hope to keep it up to date with things that are going on in my life. For friends and family, I created the "
Family
" section. I'm also starting to attract some clients for web development and GIS consulting so I have a section for that. Music and Birding have been the things that take up my spare time since I can remember so I'll be building those sections up extensively.
Links:
- Archive 1 (site debut !) -
6/22/2006
I'm creating this site in my image ... I have looked down upon it and it is good !!! Ok that sounded a little scary.
But then again ...
"Sometimes I Scare Myself" (see image).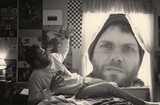 I'm pretty excited about the move. I figured with all the domains that are out there, I'd better secure something with my name in it while its still available. I needed to add the "b" in "jbchurchill" to get this domain name. Also coming soon - Look for westernmdbirding.com
---
What I listen to